THE MASK PEOPLE WEAR
"SERIAL KILLER DENNIS RADER WORE THE MASK OF A CHRISTIAN"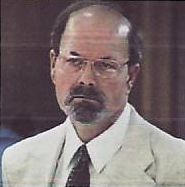 DENNIS RADER - AT COURT HEARING
By Synthia Esther
Dennis Lynn Rader – BTK, 59, served as president of Christ Lutheran Church in Park City, a Wichita suburb. After Rader's arrest as a serial kiler, Church Pastor Michael Clark is quoted as saying, "It was confusing it did not make any sense." Dennis Rader prayed, sang hymns, and carried out other duties as a loyal member of the church. A week before his arrest he had served as an usher collecting the offering. He was a former boy scout leader, father of two and husband to Paula Dietz for 34 years. Yet he lived in secret, with the "Thrill of the Kill."
Paul Carlstedt, who Rader replaced as the congregation board president in January 2005, claims he thought of Rader as "a very good person." Carlstedt is quoted as stating, "I can't believe what they are saying is the Dennis Rader I've known for 30 years." According to Carlstedt just days before his arrest, Rader brought spaghetti sauce and salad to a church supper, knowing he was unable to attend himself.
The Kansas City Star news reported (Feb. 28,2005): "Rader could be called on to mow a member's lawn or help with an event. He frequently bragged about his two grown children who live out of state, and he appeared to be a great husband. When church member Bob Smyser moved out of state for a few years, Rader checked on his mother for him.
'He was just a really caring person,' Smyser said Sunday, just before the 10:45 am service, where he frequently served as an usher alongside Rader. Since Friday, Smyser has had to face the description of Rader that authorities give: a serial killer who thirsted for notoriety." Dennis Rader lived a life as a double minded man (James 1:8).
"I KNOW IT IS A DARK SIDE THAT CONTROLS ME"
Radar told Kake -abc 10, reporter Larry Hatteburg, "I know it is a dark side that controls me. I personally think, and I know it's not very Christian, that its demons within me, at some point when I was young that controlled me." Thursday, July 7, 2005, Larry Hatteburg reports Rader as stating, "You know, how could a guy like me, a church member with a family go and do those sorts of things. The only thing I can figure out is that I've compartmentalized somewhere in my body where I can do those sorts of things and go back and live a normal life which is unbelievable that it has happened."
Rader admitted in June, to killing 10 people between 1974 and 1991. One of his victims was 11 year old Josephine Otero. MSNBC (NBC News) reports after Rader killed Josephine's parents and brother, he had a verbal exchange with his young victim Josephine who asks, "What's going to happen to me?" Rader replies, "Well honey, you're going to be in heaven with the rest of your family." Rader than hanged the girl and masturbated on her body. On August 18, 2005, Judge Gregory Waller gave Dennis Rader 10 consecutive life sentences, 175 years without possible parole.
Bob Smyser, Rader's former fellow church usher, has had to explain it all to his children. The Kansas City Star reports that Smyser and his wife sat down with their two older children, ages 5 and 7, after the children had seen Rader's photograph on television. Smyser is quoted as stating, " My five year old son said ' That's the man who collects money with you in the plates,' Smyser responds, 'Yes, it is.' Smyser is said to have struggled with what to say next. 'I'm not sure what to tell him. I'm not sure what to tell myself.' His son spoke first.
Daddy, he tricked us, didn't he?'
'That's as simple as it gets,' Smyser said."
WHY DO PEOPLE WEAR MASKS?
People wear masks to hide. To cover their true intentions, the identity of their soul and spirit. Our soul is made up of our mind, will, and emotions. These are containers that are filled with past and present experience. Our choices, for better or for worst. We each come from what we know to be our own personal truths. People wear masks to camouflage who they are, where they have been, what they have done, and where they are going. Using Dennis Rader's example and soul mask we learn:
"SECRET CONFESSIONS OF BTK"- DATELINE NBC
(NBC – Released exerts from the taped interview aired on August 12, 2005)
Josephine Otero, 11, was discovered hanging by her neck from a pipe, she was partially nude, dressed only in her sweat shirt and socks, and she had been gaged. According to Capt. Paul Dotson, of the Wichita Police Department, semen was found through out the house, and it appeared as though the killer masturbated on some of the victims. Dennis Rader was convicted of the crime. This was a man who wore the mask of a leader in the church, considered to be a model citizen.
WHERE THE MIND GOES THE FEET FOLLOW...
DENNIS RADER'S SEXUAL FANTASIES AND DREAMS
(Spelling and grammatical mistakes are Rader's)
"If I had never gone into the sexual fantasies, really off the deep end, I'd never became what I was. I just went from one fantasy to bigger, bigger, bigger."
"I got this fantasy. I started working out this fantasy in my mind. Once that person became a fantasy, I could loop it over. I would lay in bed at night thinking about this person, the event and how it's going to happen. It became like a picture show. I want to produce it, direct it and go through with it no matter the cost or consequences. It was going to happen one way or another. Maybe not that day, but it was going to happen."
"I can't stop it...it controls me, you know, its like in the drivers seat. That's probably the reason we're sitting here. You know, if I could just say, 'No, I don't want to do this, and go crawl into a hole!' But its driving me."
"I don't think it was actually the person that I was after, I think it was the dream. I know thats not really nice to say about a person, but they were basically an object. They were just an object. That's all they were. I had more satisfaction building up to it and afterwards than I did the actual killing of the person."
On Factor X – (Rader claimed he had a "Factor X" that made him want to kill). "Factor X is probably something I'll never know. I actually think it maybe possessed with demons. Uh, I was dropped on my head when I was a kid..."
"In my dreams, I had what they called torture chambers. And to relieve your sexual fantasies you have to go to the kill."
"I can't stop it so the monster goes on, and hurt me as well as society. Society can be thankful that there are ways for people like me to relieve myself at time by day dreams of some victims being torture and being mine. It a big complicated game my friend of the monster play putting victims number down, follow them, checking on them, waiting in the dark, waiting, waiting...the pressure is great and sometimes he run the game to his liking. Maybe you can stop him. I can't. He has already chosen his next victims. I don't know who they are yet. The next day after I read the paper, I will know, but it will be to late. Good luck hunting.
Yours Truly Guiltily

P.S. Since sex criminals do not change their M.O. Or by nature cannot
do so. I will not change mine. The code word for me will be...Bind
them, torture them, BTK, you see he at it again. They will be the next
victim."
THE MASK OF DECEPTION WORN BY TIGER WOODS, JOHN AND ELIZABETH EDWARDS, AND RIELLE HUNTER
There are many masks among the addicted. World golf champion Tiger Woods played the doting husband and father, all the while hiding the fact he was a sexually obsessed and addicted womanizer. As of January 2010, Woods is reported by recovering sex addict, Denizer-Lewis (author of the book "America Anonymous: Eight Addicts in Search of a Life"), to be in a sex rehab clinic at Pine Grove Behavioral Health & Addiction Services in Hattiesburg, Mississippi.
Former Democratic Presidential candidate John Edwards had an affair with videographer Rielle Hunter, (who he met in 2006 at a New York bar), fathering their love child. a beautiful baby girl named Quinn. All of which John Edwards denied, and ulimately recounted (CBS News), on January 21, 2010. Meanwhile John's wife, Elizabeth Edwards, is sick with cancer, taking care of their children while helping to usher in campaign votes. Elizabeth played the victim for a while, all along knowing the truth. It is my opinion, Elizabeth is a co-dependency addict. Perhaps she sought a power image of being the first lady of the White House, even lying to the American public to achieve her goal. All the while keeping her marriage intact, covering up her husbands double life. She lied, he lied, Rielle Hunter lied...they all lied. Such are the masks people most often wear. And don't think for a moment that Rielle Hunter is free from guilt in this unholy affair. One must always remember, "We Reap What We Sow."
GALATIANS 6:7-9
"Do not be deceived: God cannot be mocked. A man reaps what he sows. The one who sows to please his sinful nature, from that nature will reap destruction; the one who sows to please the Spirit, from the Spirit will reap eternal life. Let us not become weary in doing good, for at the proper time we will reap a harvest if we do not give up."
THE GIFT OF MASK REMOVAL - THE CONFESSION OF SIN
While Elizabeth Edwards is dying of cancer (as of this writing in late January 2010), she has been given solace in the midst of her emotional storm. Elizabeth has come clean after a DNA test proved baby Quinn was indeed her husband's baby. She and John Edwards are now legally seperated, even informing their children of half-sister baby Quinn. Time has given Elizabeth the gift of the mask removeal of co-dependency addiction. Facing the truth of how her behavior added to the chaos of her seemingly narcisstic husband's behavior. Truth is power. Secrets are a curse! Facing facts, confirming our life convictions while repenting of our sins enables the purity of motives. Only then can we begin to come clean before our heavenly Father and God. This process is a spiritual enlightenment. Having been given the "gift of present time" by which we can remove our masks of sin, manipulation, hidden agenda, and wicked deception is always a testing and a blessing of righteousness.
Far removed from the obsessions of earthly goods, deeds, acts, people, places and things, we as Christians should seek to live in the light of God's spiritual truth. Just as Jesus Christ walked and lived according to the light of the Holy Spirit. Therefore we offer our bodies to Him as living sacrifices (Romans 12:1). We do not confirm to the world's patterns and methods. Instead we live to please God, by renewing our minds with His word. Then we are able to test and approve God's perfect will (Romans 12:2).
We are to count ourself dead to sin but alive to God in Christ Jesus, letting no mask and sin reign in our mortal body so that we obey its evil desires. We do not offer the parts of our body to sin, as instruments of wickedness, but rather we offer ourselves to God, as those who have been brought from death to life; and offer the parts of our body to Him as instruments of righteousness" (Romans 6:11-13). "Do not be wise in your own eyes; fear the Lord and shun evil," (Proverbs 3:7).
Copyright - 2010-2012, Synthia Esther. All Rights Reserved.
READING RESOURCE AND RECOMMENDED LINK:
To read my complete report on Pedophilia, Dennis Rader, BoyLove, GirlLove, and like sexual crimes and addictions, visit my main addiction outreach website: WWW.SYNTHIAESTHER.COM , Library Page, Article Titled: "Will You Let Me Touch You?"